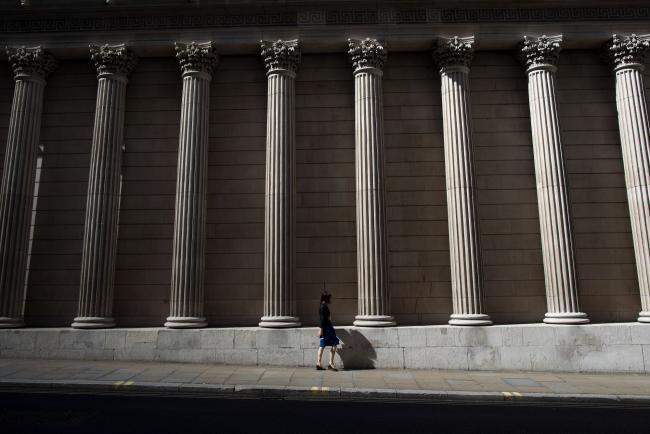 © Bloomberg. A pedestrian walks past the Bank of England in the City of London, U.K., on Monday July 31, 2017. Consumer credit growth slowed in June after the Bank of England officials took action to limit some areas of risk of borrowing.
(Bloomberg) — The Bank of England may increase interest rates this week for the first time in more than a decade, but that won't be enough to buoy the pound, according to strategists.
Markets almost fully price in a 25-basis-point increase in the BOE's key rate on Thursday, meaning investors are ill-prepared for a disappointment. Should Governor Mark Carney and fellow policy makers keep policy on hold, or deliver a one-time hike that merely reverses the emergency cut after the Brexit vote, sterling could add to the last two weeks' declines, according to Ross Walker, an economist at NatWest Markets.
The U.K. currency has declined 1.8 percent against the dollar during October as concerns about the lack of progress in Brexit negotiations weighed on investor sentiment. It snapped a two-day decline on Monday, gaining 0.3 percent to $1.3161 as of 9:11 a.m. The yield on 10-year U.K. government bonds fell 1 basis point to 1.34 percent.
"Sterling needs a hawkish hike in order to rally," said Walker. "The pound could come under pressure" otherwise, he said.
While money-market pricing suggests an 89 percent probability that the Monetary Police Committee will tighten on Thursday, banks including Credit Suisse Group AG and Barclays Plc expect a "one-and-done" move. Investors will look to the language of the MPC minutes, vote split and the quarterly Inflation Report to gauge the policy outlook further ahead.
"I'd prefer to go into the meeting" with a short position on sterling, said Steven Barrow, head of currency strategy in London at Standard Bank. "There is a reasonable enough chance they don't raise rates. We'll have to see what comes out from the statement the bank puts out."
sponsoredArticle = 'div-gpt-ad-1466339494851-0';