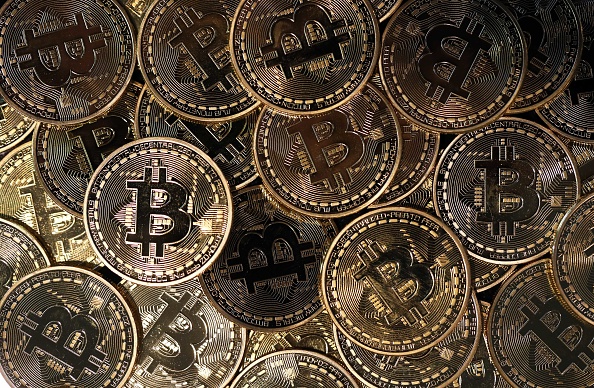 © Bloomberg. A collection of bitcoin tokens sit in this arranged photograph in London, U.K., on Wednesday, Jan. 4, 2017. The electronic coin that trades and is regulated like oil and gold surged 79 percent since the start of 2016 to $778, its highest level since early 2014.
(Bloomberg) — Institutional investors drooling over the returns from bitcoin but barred from buying it will soon have their chance in the futures market and, eventually, exchange-traded funds.
CME Group Inc. (NASDAQ:CME), the world's largest exchange, said on Tuesday it plans to introduce bitcoin futures by the end of the year, following fellow Chicago exchange Cboe Global Markets Inc., while a startup, LedgerX, offers swaps and options. Bitcoin, the largest cryptocurrency climbed to a record after the announcement. It's now up more than sixfold this year.
"This obviously opens up the opportunity for an ETF in the future," said Garrett See, chief executive officer of DV Chain, a trader of cryptocurrencies and sister company to DV Trading. "It is ironic that so many people want exposure to bitcoin without actually owning the bitcoin."
Derivatives expand the market and increase liquidity by letting investors bet on gains or declines, and allowing trading firms to adopt market-neutral strategies, finishing each day even. They also are key to the creation of investment products like ETFs for a broader range of institutional investors, which generally are restricted to buying regulated securities.
"You have a lot of interested investors who can't custody bitcoin itself, either for regulatory reasons or because it's scary and hard," said Ari Paul, co-founder of Blocktower Capital, an event-driven fund that manages about $50 million. He said it will likely take at least six to 12 months before any bitcoin ETFs win regulatory approval. "The bar to launching ETFs is higher than to have futures on any product."
Read More: A Bitcoin ETF May Be the Next Big Thing on U.S. Exchanges
Both futures exchanges need approval for the contracts from the U.S. Commodity Futures Trading Commission. Bitcoin futures should make it easier to create an ETF on the digital asset, but ETFs would also need U.S. Securities and Exchange Commission approval.
The SEC in March rejected a bitcoin ETF proposed by Tyler and Cameron Winklevoss — the co-creators of the Gemini exchange — saying necessary surveillance-sharing agreements were too difficult given that "significant markets for bitcoin are unregulated," according to the agency. CME and Cboe, on the other hand, are closely watched by officials in Washington.
The creation of bitcoin futures "likely accelerates the opportunity for a bitcoin ETF to come to market," Bobby Cho, head of OTC trading at Cumberland Mining, the cryptocurrency division of DRW Holdings LLC, said in an emailed statement.
LedgerX won CFTC approval to offer swaps and options on bitcoin and began trading earlier this month. Volumes have been light so far. Yesterday, 103 bitcoin swaps traded on LedgerX, while nine options contracts changed hands, according to the exchange. The LedgerX options trades are physically-delivered, giving investors who hold a contract to maturity the ability to own bitcoin outright. The futures contracts from CME and Cboe will be cash settled.
For now, it appears the bitcoin futures battle will take place in Chicago. CME and Cboe "will duke it out" for attracting trading and generating the most liquidity, said Javier Paz, a senior analyst at Aite Group LLC.
sponsoredArticle = 'div-gpt-ad-1466339494851-0';